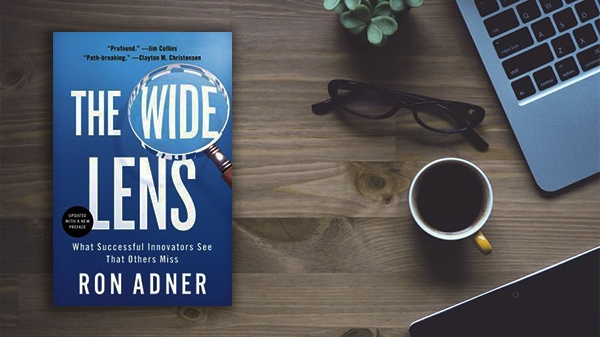 These days, it is enough to read the introduction and then quickly scan the rest of the content to absorb the essence of most management books. The Wide Lens is one book I have read cover to cover, and now am in my second round!

In today's interdependent world, no matter your situation, your success depends not just on your own innovation and execution excellence, but also on the ability and willingness of the visible as well as invisible partners that make up your ecosystem. This is often a blind spot for many.

Using great examples from tyres to telecom – both successes and failures – Ron Adner introduces a new set of tools and frameworks that will uncover a company's hidden sources of dependence in taking an innovation to market.

Here is a sneak peek into the Wide-Lens Tool-Box:
Begin by gaining a clear view of your Value Blueprint. It will reveal hidden Co-innovation and Adoption Chain Risks. Drawing a clear blueprint will encourage you and your team to formulate a plan for dealing with problematic elements proactively, at the start of your journey. It will help you avoid the familiar improvisation of tactical adjustments that is the hallmark of incomplete strategy.
Using the Leadership Prism to assess the distribution of expected surplus will help you identify who the natural ecosystem leadership candidates are, and whether you are among them. Using the First Mover Matrix will help you determine your ideal timing, letting you see whether the structure of interdependence is likely to reward early movers or hold them at the starting line waiting for the race to start.
Exploring alternative blueprints using the Five Levers of Ecosystem Reconfiguration will help you arrive at a plan that can accept the constraints of your ecosystem and still deliver a complete value proposition. And coupling this exercise with the principles of the Minimum Viable Footprint, Staged Expansion, and Ecosystem Carryover, will help you identify the best sequence to follow in building toward your value proposition, and then leverage this achievement to extend your advantage to additional opportunities.
Bottom Line: Eliminate avoidable failure; strategise more robust success!

Aren't the phrases Value Blueprint, Leadership Prism, Minimum Viable Footprint teasing you enough to grab the book at first opportunity?